Quality and Detailing
1. Unceasing Quality
Bedding must be beautiful to the eye, as well as durable and easy to maintain. This is a lesson we learned from professional housekeepers over decades of providing bedding and bath products to the luxury hospitality industry. It is a lesson we have taken to heart. You can see our concern with quality in the details including double-stitching, German cotton piping, and hidden zippers. We invest our time and energy in creating long-lasting and easy-to-care-for bedding and bath products that bring the luxury of the finest hotels to your home.

2. Join Us on the Journey from Seed to Sleep
We are working to make our products as gentle on the earth as possible by focusing on sourcing, manufacturing, and distribution. This includes our line of D.O.E. Down on Earth® sheets, pillows, comforters, and towels made with 100% organic cotton. We hope you will join us on the journey from seed to sleep.
Knowledge and Experience
1. The Art of Bedmaking
Knowledge is power. This maxim certainly applies to selecting the pillows and bedding that will provide sufficient, quality sleep. That is why Down Etc wrote the book on it. In Roll Into a Perfectly Made Bed: All You Need to Know About the Art of Bedmaking. Down Etc shares the knowledge of bedding and bedmaking acquired over twenty years of working with professional housekeepers in luxury hotels the world over. We offer the products and expertise to help you turn your bed into a calming oasis where a great night's sleep awaits.
2. We Love Pillow Talk
Our Team serves as a Pillow Butler® to assist with the critical task of helping you to pick the pillow and bedding that is right for the way you sleep. We ask the right questions to determine the sizes, styles, materials, and fills that will help you to have a great night's sleep™. We look forward to talking pillows and bedding with you.
3. A World of Hospitality Brought to You at Home
We have learned the secrets to creating a bed that will provide a great night's sleep over twenty years spent working with professional housekeepers in luxury hotels around the world. We are delighted to share these secrets, and the same hotel-quality products, with you at home.
Sleep Health and Wellness
1. Sleep Health and Wellness
A great night's sleep is the best medicine for a tired mind, body, and soul. We are committed to producing the bedding that will provide our customers with the sufficient, quality sleep necessary to make the most of each day. Join us on the journey to a great night's sleep.
2. Knowledge Is Power When It Comes to Sleep Health and Wellness
We remain at the forefront of the latest innovations in sleep health and wellness so we can incorporate them into our products and share them with our customers in our blogs and newsletters.
3. Bedtime Rituals
We believe establishing daily rituals, from making your bed in the morning to exchanging your street shoes for slippers at the front door, are little steps that have a big impact; they separate your home from the world outside. Stepping out of a warm tub onto a plush bath rug and wrapping yourself in a luxurious robe can relax you in preparation for bedtime. Snuggling up to the perfect pillow in one of our Tiara Silks® pillowcases provides the luxurious comfort that will let you relax and release the tension of the day. Each ritual is a step toward the goal of a great night's sleep.
4. Hug It Like You Love It!®
We share our hearts when we share our Hug It Like You Love It!® Heart Pillows for good causes. Everyone benefits from a hug and our Hug It Like You Love It!® Heart Pillows are the perfect size for a comforting squeeze.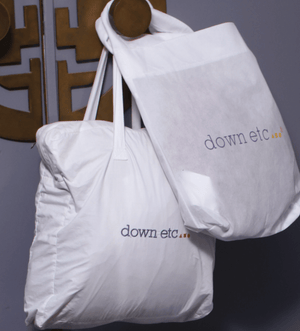 Bedding Maintenance and Hygiene
1. Hygiene of the Bed
A clean and hygienic bed is critical for quality sleep. This means protecting your pillows and mattresses from dirt, spills, and other contaminants with pillow protectors and mattress pads. You make an investment in your pillows and mattresses; let us help you to protect them.
2. Compliments to the Bedmaker
There is nothing quite like climbing into a well-made bed. We have learned from the best hotel housekeepers around the world how to make beds quickly and well. In Roll Into a Perfectly Made Bed: All You Need to Know About the Art of Bedmaking, we provide easy to follow diagrams of how to make your bed, whether that means folding your sheet and blanket into perfectly angled hospital corners or placing a comforter into its cover and floating it onto the bed.